Well Summer is flying by and here we are already approaching the last few weeks of July. I hope if you are reading this that you are enjoying some sunshine amidst the frequent showers and brooding thunder storms; the weather has indeed prooved something of a challenge at recent events but this being England we are used to turning up to events in our sandals but with wellies safely stashed in the car boot! 
I am fortunate enough to have been offered some really lovely opportunities to exhibit this year and have been enjoying taking my work to some fantastic events. Whether squeezing into a cozy village hall (thank you Timsbury Seed Swop and Bishop's Lydeard Easter Fair) or the four day trading marathon at Chippenham Folk in a hot and crowded marquee, each event has been an absolute joy, meeting wonderful people from around the country - both visitors and fellow exhibitors alike (and not forgetting the hard working event organizers and volunteers who put so much energy into making them happen). I am always humbled and delighted that my original work is so well received and hugely grateful to be able to call this my living. Thanks to all of you who have supported and encouraged me - either by visiting me at a show or purchasing from a gallery; and to those of you who have been placing orders online - thank you so much.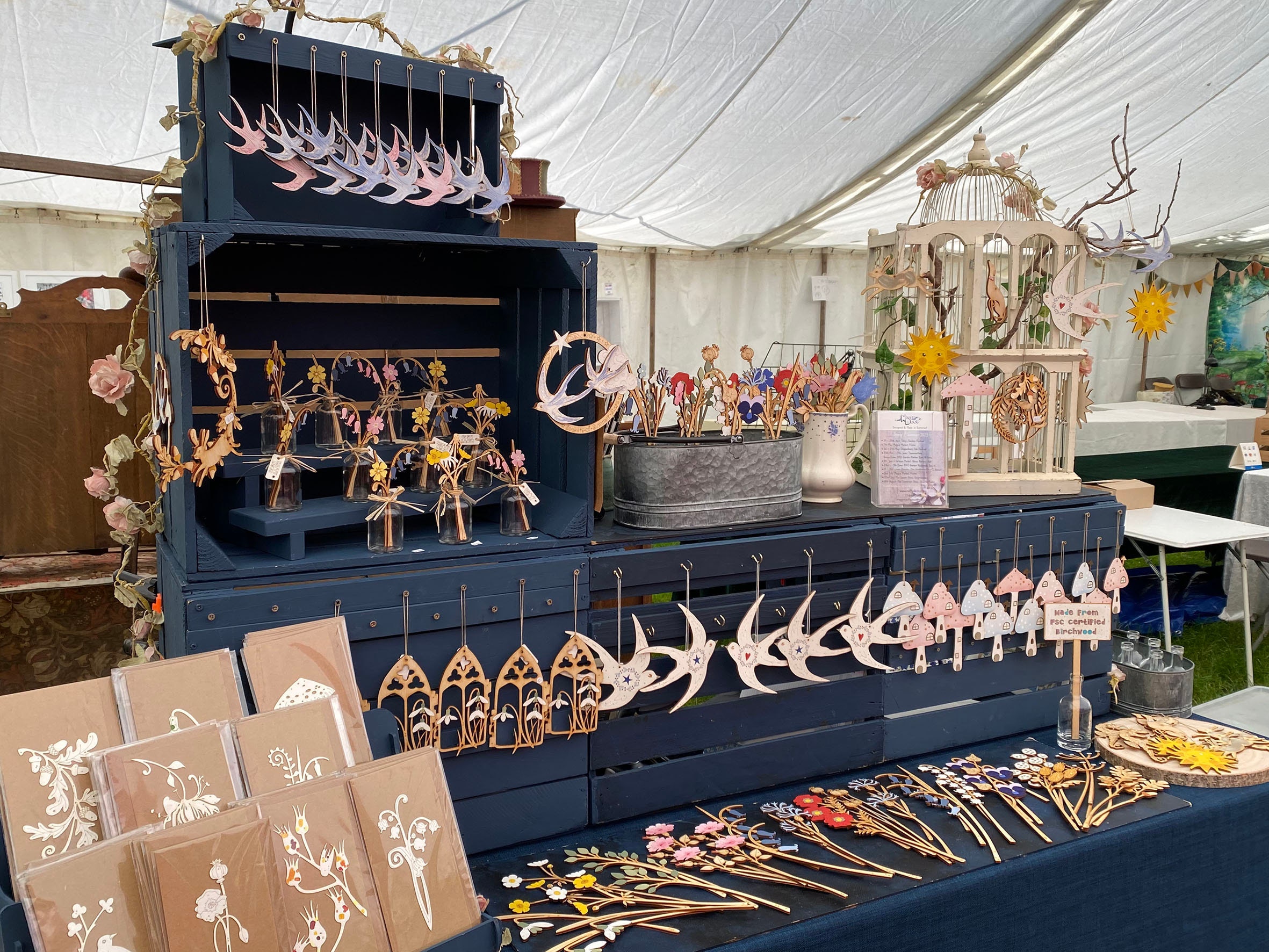 Chippenham Folk Festival ( Maggie Powell)
At the end of April I was accompanied by my wonderful mother who made the annual trip down from Yorkshire to join me and help out at Toby's again- we love that show and our space in the barn at Powderham Castle.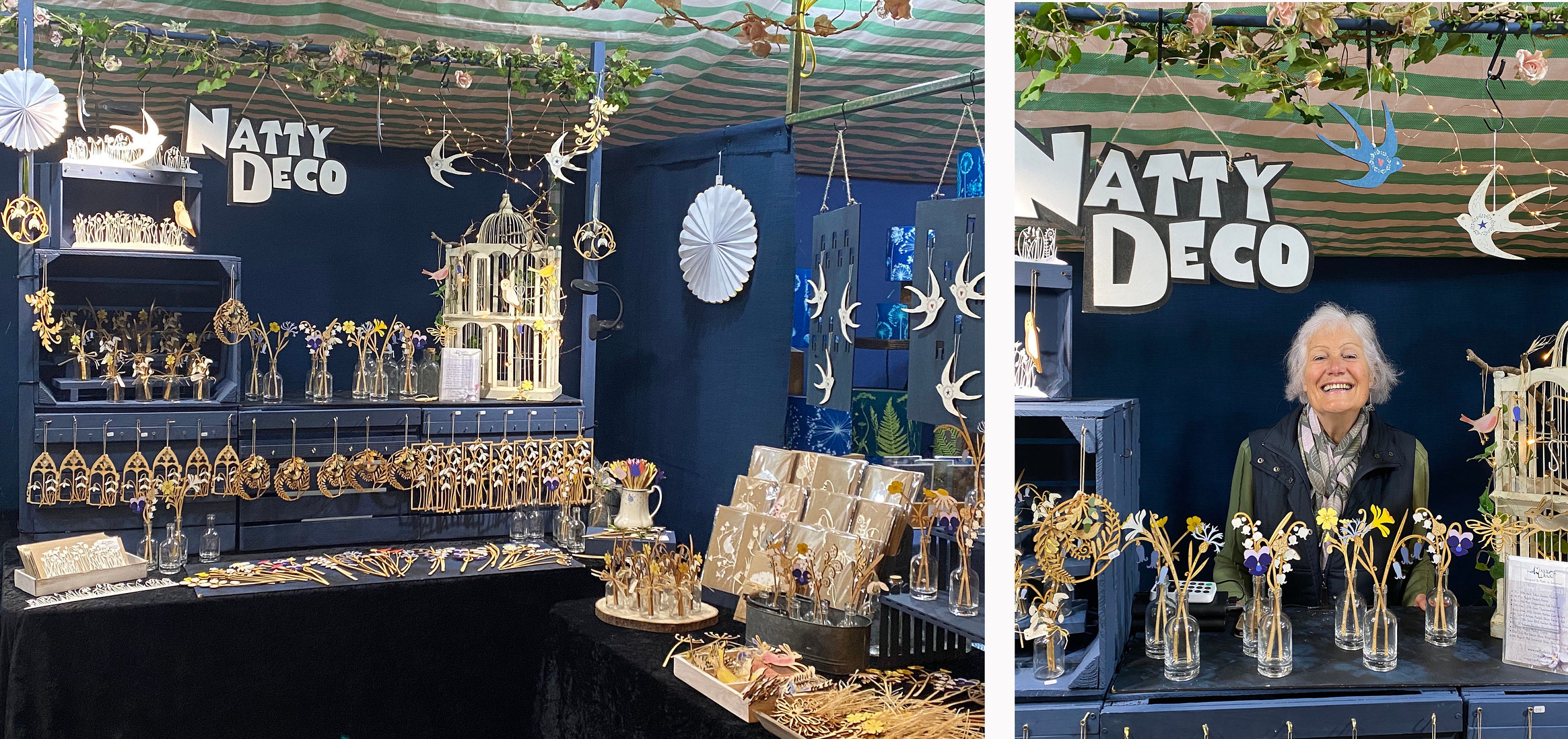 Toby's Garden Festival (Maggie Powell) 
May saw my work returning to Yorkshire for a fabulous group show hosted by Lakes, Dales, Moors at The Bath House Gallery, RHS Garden Harlow Carr, followed by a return visit to the glorious Festival of Roses at RHS Garden Rosemoor ( there is a video of images of the gardens on my social media accounts if you fancy a peek: facebook or instagram @nattydeco I dont really do Twitter and I certainly wont be doing Threads either for heaven.s sake. Life is too short!) 
I also joined The Somerset Collective for a super day supporting Somerset Councelling Therapies at Ilminster, and am very chuffed to be joining them again in September for The Great Bath Feast.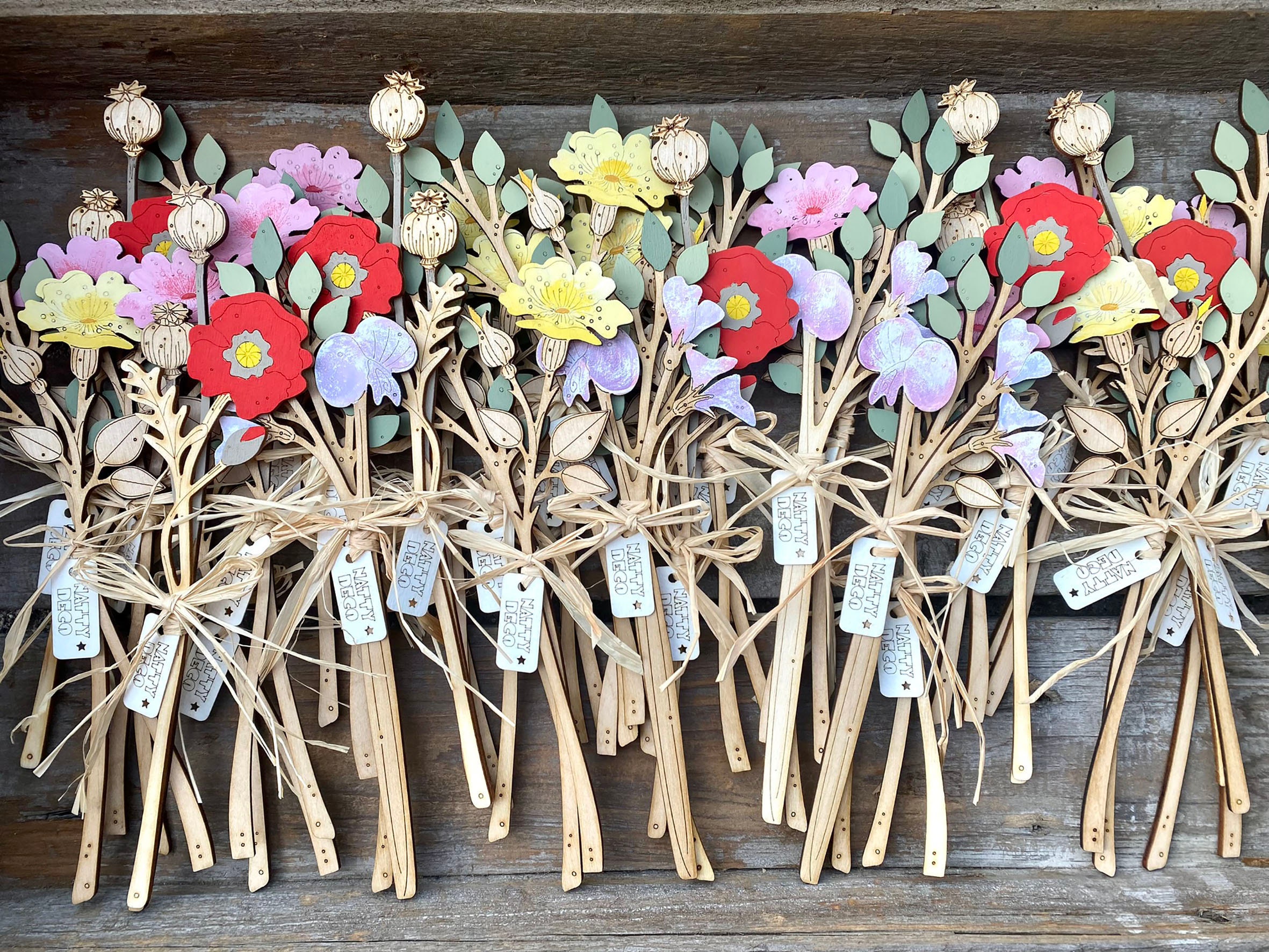 Popular hand painted flower duos prepared for RHS Gardens Harlow Carr and Rosemoor (Maggie Powell)
Our regular Sunday Magpie Market in Frome continues to surprise us with either a scarcity or lots of visitors - you never can tell! However it is always a hugely sociable day in a town very close to my heart having lived there for 5 years. Thankfully my sales at this event continue to be bouyant irrelevant of the turn out and I adore being next to my neighbours and good friends Steve and Mary. 
There was as always a great turn out for the recent Art Car Boot Fair hosted by Black Swan Arts - thank you Fromies for braving the elements and coming along to support us. Bravo! 
I love to change my stand and display around at each event - it keeps things fresh for my regular customers and is also nice to tune into the feel of each show. Having received an invitation from Uplyme Horticultural Society to bring my floral work along to this year's Viola themed show I thoroughly enjoyed developing some new Viola cards alongside the hand painted Violet stems I had already developed in Spring. I was extremely surprised and delighted to receive a prize for my stand and will hang onto my rosette with great pride. Thank you to The Gardener's Blacksmith for inviting me along; aside from prize winning the event was utterly charming, nestled in the valley with bunting fluttering (in the torrential rain!) and surrounded by beautiful trees and hills it really was a wonderful day.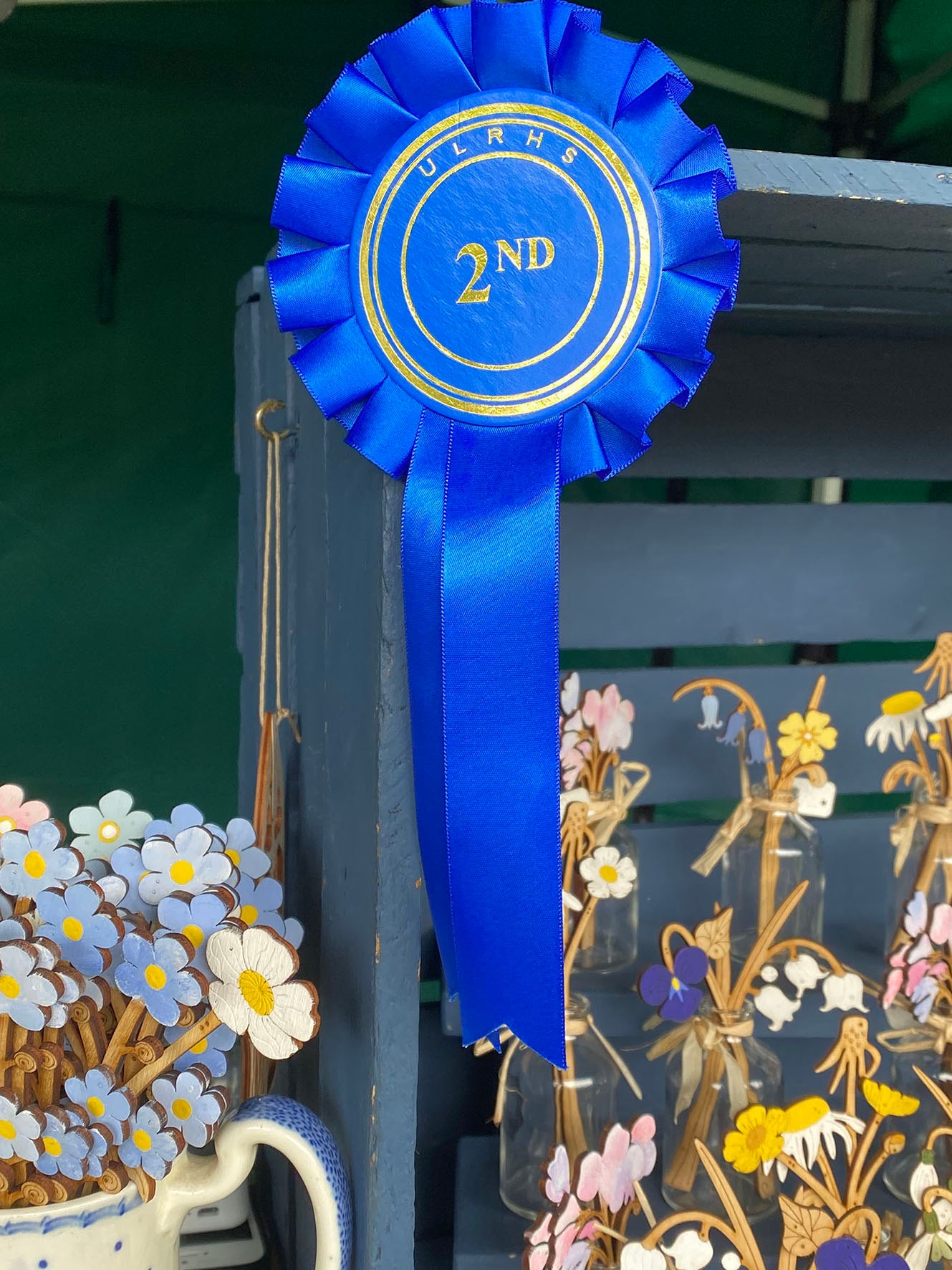 Prize Winning! (Maggie Powell)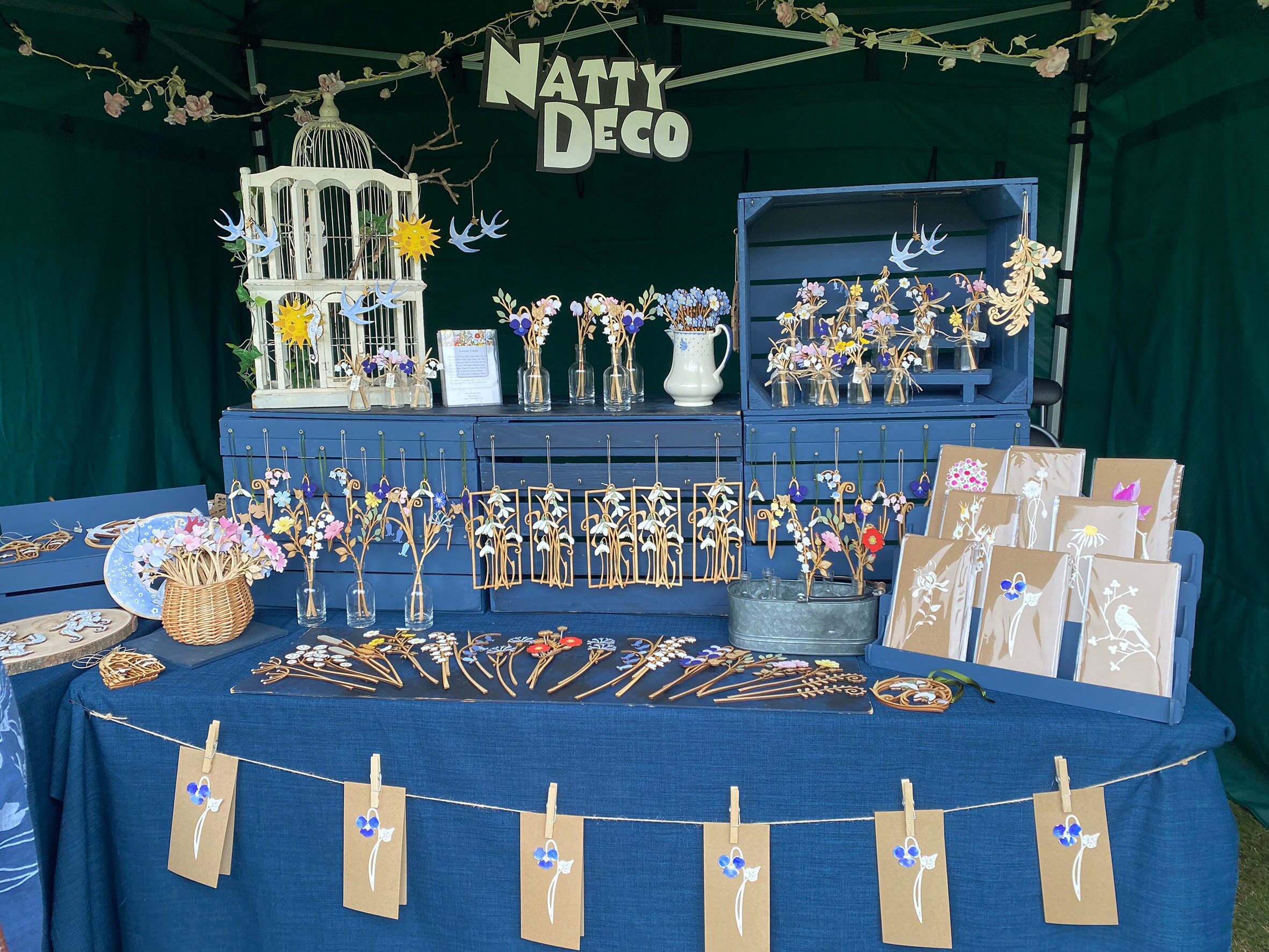 (Maggie Powell) 
As July draws to a close I am currently making preparations for the imminent Mid Devon Show, followed by Taunton Flower Show both of which I am really looking forward to  - maybe even see some of you there?!
In August I am also going to be Maker of the Month in the Gallery Shop at the very much beloved Hestercombe House and Gardens; dates are being finalised and I will share further details on my events page and in my next blog post. Until then wishing you all a restful and joyful Bon Vacances!